If you're first time hackintosh builder you may not be aware that you need a dedicated graphics card from AMD or Nvidia to get working sleep/wake with the latest LGA 1151 chipset.
If you try to sleep your hackintosh using the iGPU it will go to sleep, but when you try to wake the machine you will decide be stuck with a black screen. when you wake the machine you will have a black screen. Therefore if you don't want to shut down your machine every time your done using it you will need a dedicated GPU for sleep/wake support.
I also recommend getting a graphics card for other reasons such as macOS running smoother, weird graphical bugs going away and being able to use higher resolution displays like 4k or 120HZ at their full without any injections.
But not everybody has hundreds of dollars to shell out for an additional graphics card for their computer therefore I made a list of the cheapest cards with working sleep and wake you can get around  a $100 or less.
The cheapest card available is the Nvidia GeForce GT 710 will allow you to skip the Nvidia Web Drivers as the GT 710 is based on a natively supported architecture that older Mac's used when they  use to use Nvidia cards. Buying this card will allow you to to skip the Nvidia Web Drivers and keep up with the latest versions of macOS while not having to wait for the next version of Nvidia Web Drivers to release for graphical support.
Nvidia GT 710 Performance: 54% slower than Intel iGPU HD 630
But this card is also the slowest of them all. If you are on a really tight budget and don't anything really graphical intensive on macOS. This card could work for you.  It's only 50% the speed of the integrated GPU of a Sky Lake or Kaby Lake processor and doesn't come with a display port connection meaning you should only use this card if you are using a monitor with a HDMI/DVI port. On the plus side with native support it's a very easy graphics card to get working.
The second cheapest card available and a much better value than the GT 710. This card is twice as fast as the graphical performance of a modern Intel iGPU. You'll need to install Nvidia Web Drivers in order to use it since it's based on the Pascal architecture and you will also need to be using Sierra 10.12.4 or later for the driver support.
Nvidia GT 1030 Performance: 87% faster than Intel iGPU HD 630 and 245% faster then GT 710
The cards look cute with a nice low profile that would be good in a extra small form factor PC build. This card also doesn't come with a display port conneciton therefore if you want to use a high resolution display like  4k, 3440×1440 or 144HZ. I'd recommend atleast spending $10 for the card below.
If you want to go the AMD route I highly recommend getting this over the RX 550, because it's over 50% faster at only $20 more making it the better value card. AMD graphic cards can now work almost nativily on a hackintosh with as of 10.12.6 by following these steps. Also this card comes with a display port connection for high resolution displays.
AMD RX 560 Performance: 315% faster than Intel iGPU HD 630 and 70% faster than GT 1030
You'll get performance Nvidia can't offer for the price point in macOS. Sleep and Wake also work on AMD RX Polaris cards which now makes it a viable and better performing alternative to Nvidia's offerings.
I personally picked a RX 560, because it outperforms even my $150 GTX 1050 Ti in programs that I use a lot like FCPX. Also I wanted the native stability that comes with mixing AMD with macOS things are noticeably smoother.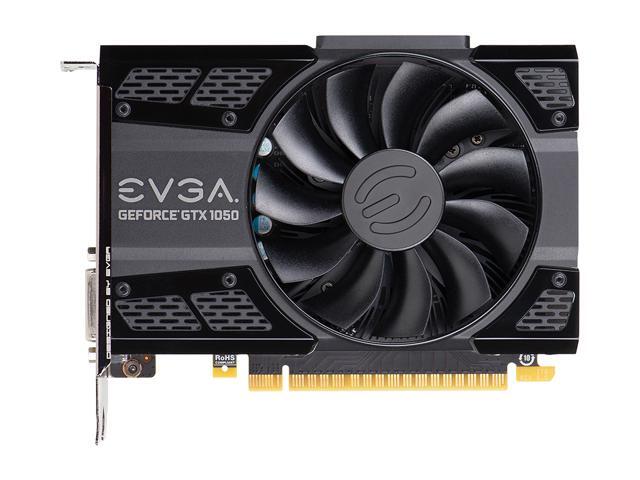 This the last Nvidia card closet to the $100 price point at the moment.Marginally out performs RX 560 in synthetic benchmarks only, but you will have to sacrifice native performance so the GTX 1050 will run slower in macOS.
Speed: 333% faster than Intel iGPU HD 630, 86% faster than GT 1030 and only 3% faster than RX 560
If your trying to decide between AMD and Nvidia. It going to depend on what  applications and whether you need CUDA support or not. With Nvidia you are going to have to rely on waiting for Nvidia drivers that do perform suboptimal compared to on Linux and Windows. AMD cards at the same price point will run better on macOS since that's what the operating system is optimized for.
Once you make a choice you can follow the Graphics Guide choose a card you can follow are graphic cards with instructions on how to get the cards working in macOS: