READER NOTE: (Updated 09/20/2021) This build began in September of 2018 with Mojave and Clover bootloader, but I have since updated it to reflect the change from Clover to OpenCore. All other updates are listed at the end of this post.
I. The Plan
This build was meant to allow me to switch to MacOS and replace my aging
Shuttle XPC SG41J1
Windows PC, which is very outdated (circa 2010). I had 3 criteria when planning the build:
1. Outperform the current "middle" 2018 Mac Mini
2. Be the same size as my Shuttle XPC, or smaller
3. Try to keep the budget under the "middle" Mac Mini's price of $699
Usage:
Aside from the common programs a typical user would use (Web Browsing, Email) I also use Microsoft Office and Adobe CC. Multimedia involves just Plex Media Player, though ideally this build would hopefully be capable of also running iMovie for some light video editing (post-production editing of action camera and 360 footage). Currently, I do not plan to use this machine for any gaming, thus my initial build did not include a discreet video card.
Budget:
With the current "middle" level Mac Mini (2018) coming in at $699, that was my starting target. The fun part was looking for the right component combination to get what I was trying to achieve.
II. The Part List
I actually spent about a month researching, changing component lists, checking compatibility, etc. and in the end, when I was ready to begin I ended up with the following component list:
Main Component List:
Motherboard: Gigabyte Z370n WiFi Mini-ITX, $129
Processor: Intel Core i5-8400 Coffee Lake 6-core, 2.8 GHz, $176
Memory: Crucial Ballistix Sport LT (1x8GB) 2400 PC4-19200, $75
Main Hard Drive: Samsung NVMe M.2 970 EVO 250GB SSD, $80
Case: Silverstone SG13B Mini-ITX Cube, $44
Power Supply: EVGA 450B3 80+ Bronze, Fully Modular, 450w, $43
Extra Items:
Quiet CPU Cooler: Noctua NH-L9I Low-Profile CPU Cooler, $39
Secondary Hard Drive: Samsung SATA-III 860 EVO 250GB SSD, $46
WiFi/Bluetooth Airport Card: OEM Apple BCM94360CS2, $6
Key A/E Module Adaptor: BCM to NGFF M.2 Socket Adaptor, $10
Keyboard: Logitech K750 Wireless Solar for Mac, $48
Things I Already Have:
Monitor: Old Viewsonic VA2431 24" Widescreen LCD
Mouse: Logitech M510 Wireless
Alternate Mouse: Apple Magic Mouse 2
Case Fan: Arctic F12 PWM 120mm Silent
Things Added Later:
Dedicated USB 2.0 (post #71)
Logitech C310 webcam, FaceTime works (post #73)
BenQ GW2480 24" IPS 1080p UltraSlim Monitor (post #136)
XFX Radeon RX-570 RS XXX Edition 8GB (post #171)
Upgraded to 2x8GB Patriot Viper 4 Extreme DDR4 3200MHz (post #179)
MAIN BUILD: $547
ADD-ONS: $149
INITIAL BUILD, TOTAL SPENT: $696*
*Pricing was at the time of purchase.
III. Build Notes
It has been approx. 10 years since my last computer build, and I had never built a Hackintosh until now. However, putting all of the components together into the Silverstone case was a breeze – anyone who's built a PC before won't have any trouble here, it's the same process as building a Windows machine. Some build pics below: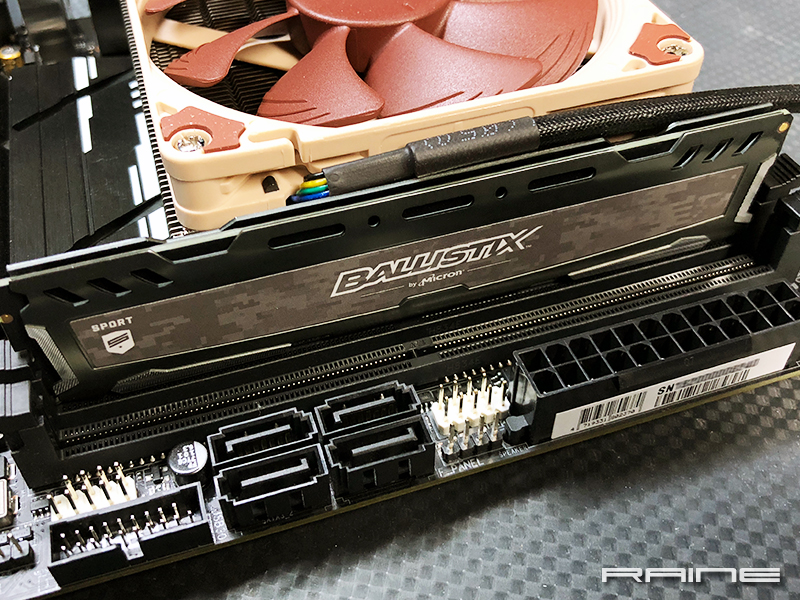 IV. Upgrading WiFi + Bluetooth Using an OEM Apple Module
Speaking of the WiFi/Bluetooth card, those not aware should know that the onboard Intel WiFi card doesn't work with MacOS (none of them do). Since I wanted full Apple functionality including Airdrop, Handoff/Continuity, iMessage, Facetime, Maps, etc. so I went with the proven combo of an OEM Apple WiFi/Bluetooth Airport module + the appropriate module adapter to install it into the Z370n.
If anyone found the idea of swapping the Intel WiFi card with an Apple Airport module a little intimidating, let me tell you – it's not. All you need to do the swap is a small Phillips screwdriver – no soldering, no cutting wires, it's all simple. I'll add some of my photos for reference: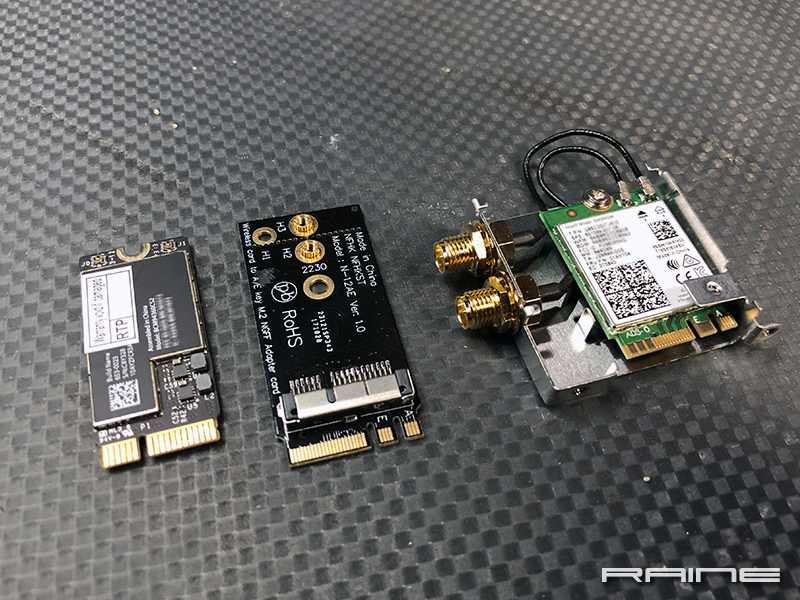 Apple Airport module and adapter on the left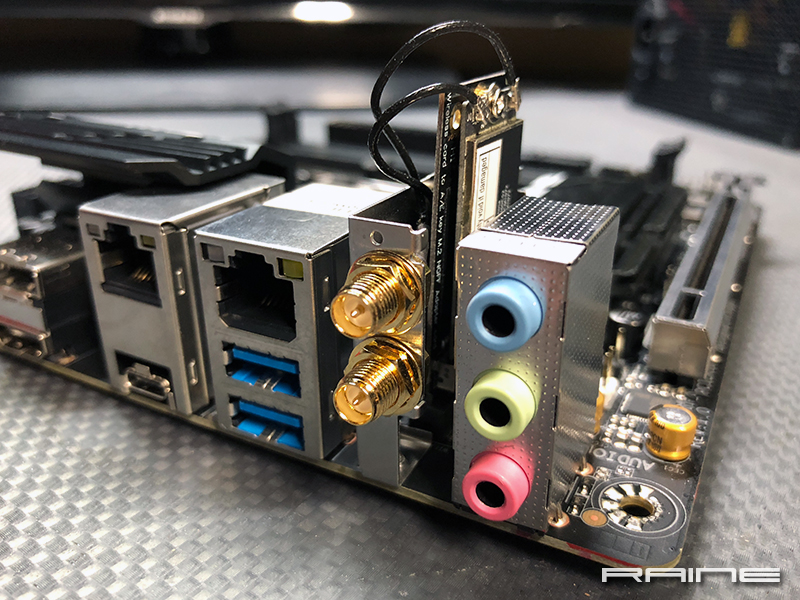 V. BIOS Info and Settings
For the Gigabyte z370n-WiFi, I am using BIOS version F5. My BIOS settings/changes were as follows (BIOS page -> Menu Item = Value):
DO THIS FIRST!!!!
Save & Exit -> Load Optimized Defaults = hit the
ENTER
key
M.I.T. -> Advanced Memory Settings -> Extreme Memory Profile (X.M.P.) =
Profile1
BIOS -> Fast Boot =
Disabled
BIOS -> Windows 8.1/10 Features =
Windows 8/10
BIOS -> CSM Support =
Disabled
BIOS -> LAN PXE Boot Option ROM =
Disabled
BIOS -> Storage Boot Option Control =
UEFI
Peripherals -> Initial Display Output =
PCIe 1 Slot
(for my Radeon RX-570)
Peripherals -> Above 4G Decoding =
Enabled
Peripherals -> Intel Platform Trust =
Disabled
Peripherals -> SW Guard Extensions (SGX) =
Disabled
Peripherals -> Trusted Computing -> Security Device Support =
Disabled
Peripherals -> USB Configuration -> Legacy USB Support =
Auto
Peripherals -> USB Configuration -> XHCI Hand-Off =
Enabled
Peripherals -> Network Stack Configuration -> Network Stack =
Disabled
Peripherals -> SATA And RST Configuration -> SATA Mode Selection =
AHCI
Chipset -> Vt-d =
Disabled
Chipset -> Integrated Graphics =
Enabled
Chipset -> DVMT Pre-Allocated =
64M
Chipset -> Wake on LAN Enable =
Disabled
Chipset -> IOAPIC 24-119 Entries =
Enabled
And finally:
Save & Exit -> Save & Exit Setup = hit the
ENTER
key
VI. Building the USB Installer/OpenCore Bootloader **NEW UPDATED**
(UPDATED) Back in November 2020, I switched to the much better, more streamlined, more reliable, and easier to work with OpenCore bootloader. To avoid any confusion I have removed the old Clover info from this post and added in OpenCore-specific info since that's what I've been using on this build. The following information is based on installing macOS Big Sur with OpenCore bootloader.
The first step here is to create a stock Vanilla MacOS USB installer. Using a 16GB USB 2.0 flash drive, I did the following:
Download MacOS Big Sur 11.6 installer from the Mac App Store.
Format a 16GB USB flash drive with the following settings:

Name: usb
Format: MacOS Extended, Journaled
Scheme: GUID Partition Map

In Terminal, and I used the following command (all one line):
Code:
sudo /Applications/Install\ macOS\ Big\ Sur.app/Contents/Resources/createinstallmedia --volume /Volumes/usb
After about 15 minutes, the MacOS Big Sur 11.6 USB installer was finished, and ready for OpenCore. To build my OpenCore bootloader EFI, I used the following files (and versions):
…and specifically for the z370n-WiFi motherboard, I have the following drivers:
… and the following kexts:
…and finally, the following SSDT files:
followed the guide
step-by-step. With OpenCore you
build your own EFI
and you know everything you did to make it happen.
With the OpenCore EFI built, I plugged the USB flash drive into the machine and after a bunch of scrolling text, the macOS installer showed up on-screen and I could install macOS Big Sur!
VII. EFI Transfer and USB Port Mapping
**NEW UPDATED**
After the vanilla installation of macOS was successful, the last step was to make the system boot natively. In order to have the Hackintosh Deluxe boot up on its own (without requiring the USB installer flash drive plugged in), I just copied the contents of the USB flash drive's EFI Partition to my MacOS' main SSD drive's EFI Partition.
As for the USB mapping, when I switched from Clover to OpenCore I already had my own USBports.kext ready to go. If you haven't done this yet, you can do the exact steps I took by following this guide: "
How-To: Properly Map Your USB Ports for OpenCore
". It takes about 5-15 minutes to do, and the result afterward is:
A proper USB kext matched to your system (no more unstable "USBInjectAll.kext" workaround required);
All USB ports (2.0, 3.0, USB-C) are running at full speed;
Updating to future versions of MacOS shouldn't break the system (like it did with Clover)
To help you out, here's how I mapped the ports for the z370n-WiFi: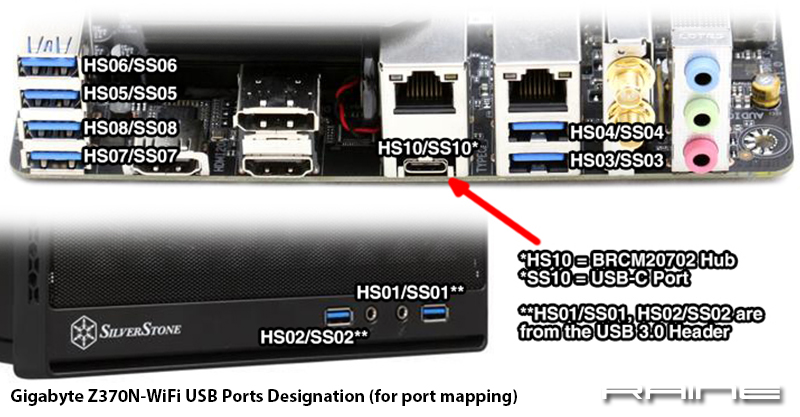 VIII. How It Performs
After macOS installation, I ran some popular benchmarks (note: this was done with the initial build using Mojave + Clover bootloader) to see where my build stands vs. the "baseline" $699 Mac Mini and other, more expensive systems:
Geekbench 4
GeekBench 4 testing gave me a Single-Core score of
4997
– which blows away the Mac Mini's score of 3402, and likewise, Multi-Core score of
18905
easily bests the dual-core Mac Mini's score of only 6468!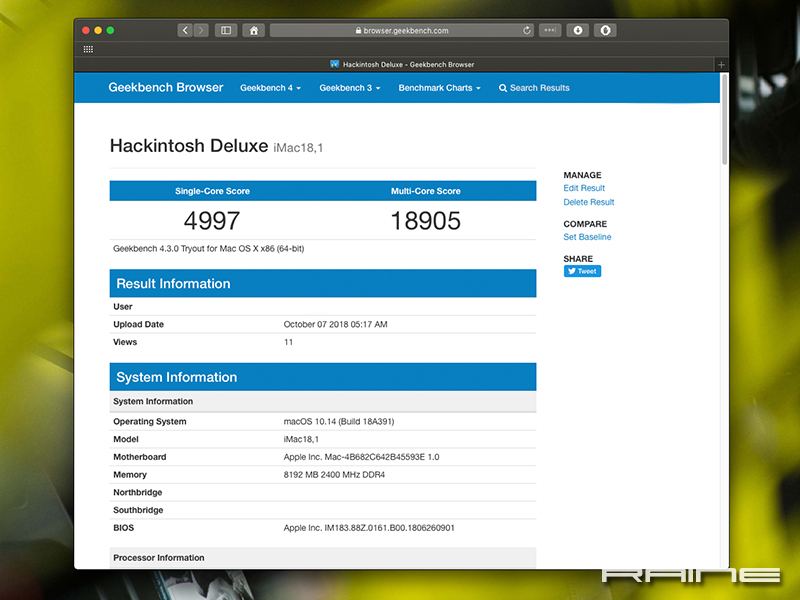 Cinebench R15
I wasn't expecting much out of this test since I was using the onboard Intel 630 graphics, and the Cinebench R15 results showed, as my build could only get up to 32-fps. But since this wasn't built for gaming, this is perfectly fine with me.
BlackMagic Disk Speed Test
I wanted to see how fast the SSD drives were, so I also ran the BlackMagic Disk Speed Test. The 860 EVO SATA-III speeds were (as expected) fast enough, but I was amazed at how much faster the 970 EVO NVMe SSD was… Holy Cow!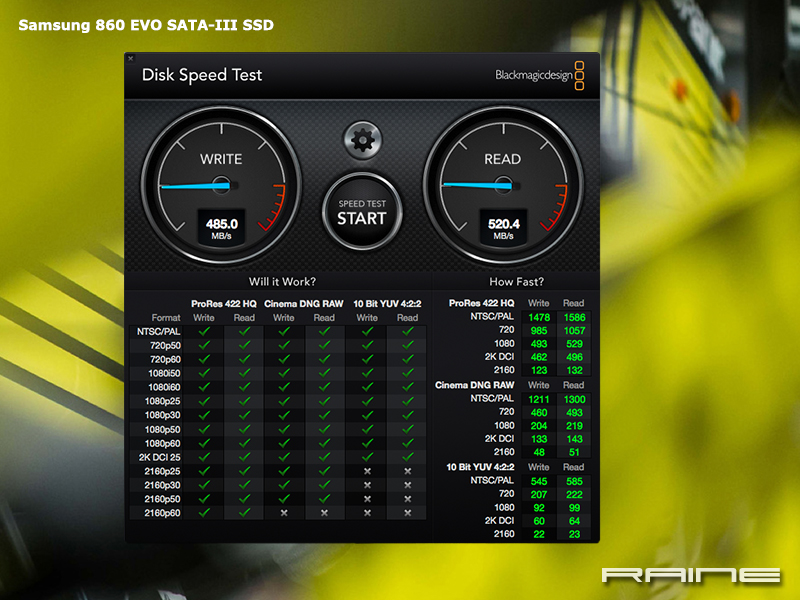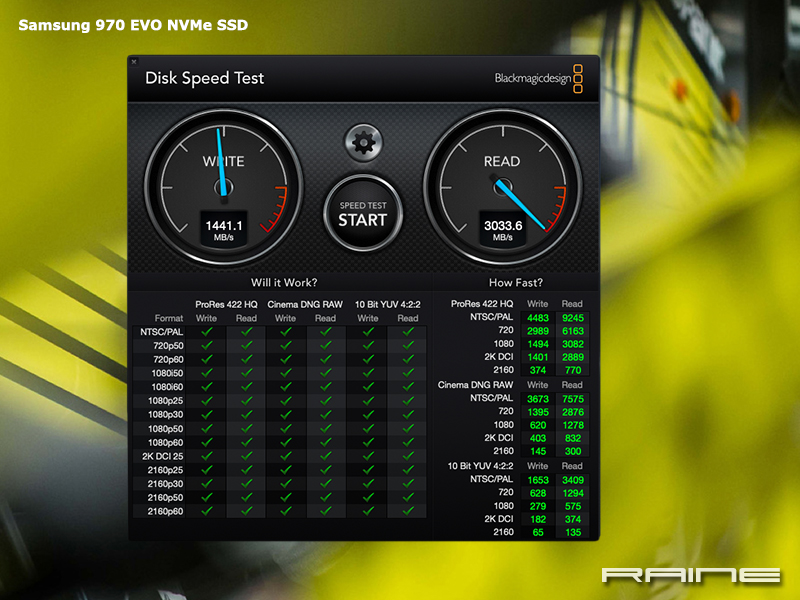 IX. What Works, What Doesn't
Back to the desktop, it was time to see if it all the hardware and apps work:
What Works 100%:
Pretty much everything...
- Rear HDMI ports x2
- Rear Mini DisplayPort
- Rear ethernet ports x2
- Rear USB-C port
- Rear USB 3.0 ports x6
- Front-panel USB 3.0 ports x2
- Rear panel microphone input and speaker output (3.5mm jack)
- Front panel microphone input and headphone output (3.5mm jack)
- WiFi and Bluetooth (required card change, "Build Notes")
- Airdrop
- Airplay
- Apple Music
- AppleTV DRM
- Continuity
- FindMy
- Handoff
- iCloud sync
- iMessage
- Maps w/Location
- Night Shift
- Sleep/Wake
What Doesn't Work:
As seen in the above list, all of the features of MacOS are working perfectly (Yay!).
X. Final Thoughts
Just to cover all the bases, I used the Power Supply Calculator on the
Coolermaster
website to see that my current build is drawing approx. 164-watts (@90% TDP, always on 24/7) - so I'm not even using half of my EVGA power supply's 450-watt rated output. If I were to add the second stick of RAM and the video card listed above, the calculated power draw would go up to approx. 243-watts, so I would still be good when it comes to supplying enough power after an upgrade.
So there we have it. I'm very happy with my system and it has been stable and trouble-free since the initial build.
Thank you to the numerous guides and resources available online to help people like me build their own Hackintosh; especially @Edhawk,

Hackintosher.com

and

r/hackintosh

.
Thank you for reading if you made it all the way to the end.
Feel free to comment or ask questions, I will help if I can, but please - do not ask me to upload my EFI folder; do the work for your own machine, it's not that difficult at all if you take your time and follow the steps =)
XI. Build Updates
The following is a running list of any changes I've made since the original 10/03/18 build:
MacOS Major Updates
10/07/18: Initial build MacOS Mojave 10.14 (post #1)​
10/07/19: Updated to MacOS Catalina 10.15 (post #171)​
11/18/20: Updated to MacOS Big Sur 11.0 (post #174)​
05/13/21: Updated to MacOS Big Sur 11.3.1 (post #175)​
07/28/21: Updated to MacOS Big Sur 11.5 (post #178)​
09/18/21: Updated to MacOS Big Sur 11.6 (post #179)​
Hardware Updates
02/19/19: Dedicated USB 2.0 (post #71)​
02/23/19: Logitech C310 webcam, FaceTime works (post #73)​
07/09/19: BenQ GW2480 24" IPS 1080p UltraSlim Monitor (post #136)​
11/14/19: XFX Radeon RX-570 RS XXX Edition 8GB (post #171)​
09/18/21: Upgraded to 2x8GB Patriot Viper 4 Extreme DDR4 3200MHz (post #179)​
Other Updates
02/27/19: Created USBMap.kext for USB 3.0 at full speed (post #79)​
11/18/20: Converted to OpenCore Bootloader (post #174)​
09/20/21: Updated first post with OpenCore files guide​
​
Last edited: